Center for Meaningful CoCreation
In a hectic and ever changing world, the ability to deal with the unforeseen is the key to both well-being and top results. 

That's why, keeping up to date is a key prerequisite in modern everyday life. 
With more than 30 years of experience in communication, we have developed a unique understanding of how to inspire learning. 
It is about switching from being interesting to being interested – because if new knowledge is going to create a new meaningful understanding, it must be transformed into personal insight.
Origo – Wisdom in action
Of course, all the lectures in Sebastian Nybo's portfolio will be adapted to your organization, culture and situation, so that you are always guaranteed the optimal benefit of each presentation. Book a keynote speaker who is known for his straightforwardness, his ability to make the complex simple with the help of humor and imagery and above all – his intense presence. When Sebastian Nybo has been "PRESENT", the state of affairs can NOT be the same… he makes a difference. Sebastian Nybo's lectures are targeted at either the company's managers, employees or the entire organization.
The unique recipe that makes Sebastian Nybo's lectures able to make a difference is his ability to translate complex theoretical knowledge into concrete new actions that can be applied directly into the participant's own everyday life. He sees it as his duty to be a "qualified disturbance" and to ensure that those who participate in his lectures leave – not just with new knowledge – but also with the desire to incorporate and test the new methods and tools.
Get an introduction to him and his lectures on the video.
Common to all the courses is that they – each of them – both go in depth with the latest knowledge within the topic that is in focus, as well as contain a number of practically applicable methods and new tools that can be used directly to optimize the participants' daily work.
The teaching is workshop-based and co-incide with the participants' need for new knowledge and our insight into the processes that create lasting learning. All through tangible knowledge, dialogue and exercises that provide real tools.
When it needs to be fun even when its wise
350.000 participants are not mistaken. Sebastian Nybo is a speaker who makes a difference.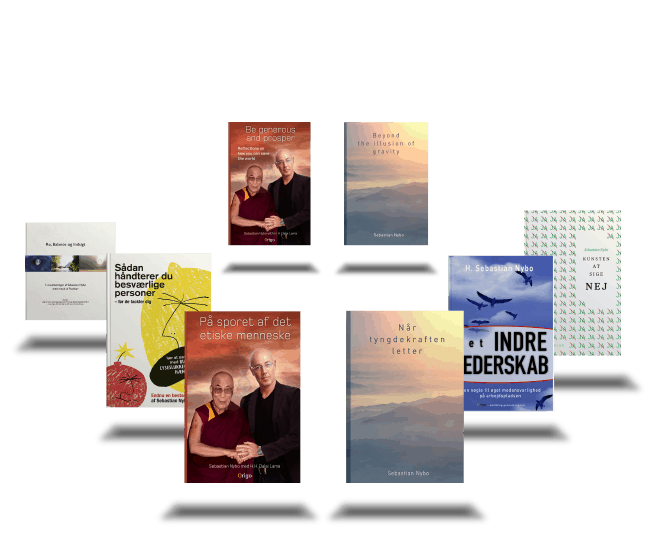 Because a book can hold so much more information than a lecture. The actual process of writing allows for a different kind of immersion, and it always benefits the reader.
I have written several books on various topics such as team dynamics, communication and empowerment. Two of them have been translated into English. My wish is always to give the reader a deeper insight into the subject and concrete tools to use the new knowledge in his or hers daily life.
CEO at Bolind A / S, Peter Andersen comments on a fruitful association with Sebastian Nybo, who has many useful tools to contribute. The entire organization needed to improve well-being and internal co-operaton. Through lectures, leadership group development, employee workshops, top management recruitment, and leadership coaching, Sebastian has been a valuable sparring partner.

Web developer and owner of Yan & Co comments on a multi-year positive and constructive association with Sebastian Nybo. Yan has experienced a pleasant interaction with a wonderful boundary between personalities and professionalism, as well as a good relationship where the co-operation flows very easily. Sebastian is "professionally impatient" and sees the person in his partners.